BestLife Gifts Of Pine Bush Releases The ToolboxBAG© Cover For Tablets and Ipads
Finally, an ipad and tablet holder built for the ministry. This makes using the Bible and playing videos much easier.
Bestlife Gifts of Pine Bush NY is proud to present the new The ToolboxBAG© For Tablets and Ipads.
It was specially designed for the Best Life Gifts store in Pine Bush. The owner, Tom Matos tells us, "Many say this is the ideal tablet cover for the ministry."
What makes this tablet ipad cover ideal for the ministry?
The Best Life Gifts of Pine Bush website tells us "No more juggling between tablet and literature! Light, convenient and efficient, the field tested Tablet/Literature Portfolio allows a smooth, no-fumble presentation."
Some of the features and benefits include:
Inside cover pockets designed for contact cards, meeting invitations, brochures and campaign tracts or not-at-home slips.
Unique pocket for magazines between your tablet and the back cover of the portfolio.
Rubber straps designed to safely secure mini or standard size tablets in multiple sizes.
Devices measuring between 4.8" to 7.3" in width and 7.4" to 10.1" in length fit securely in the rubber straps.
No-zip design allows you to fold the front cover completely behind the device while sharing a video.
An elastic strap secures a tight close of portfolio and doubles as a hand strap during presentation.
Portfolio measurements are 8 ¼" by 11" by ¾".
The break in the front cover not only allows ready access to literature but when used with the elastic closure strap, creates an easel for hands free table top use.
Easy clean leatherette in Persimmon with gray lining.
You can learn more about the ToolboxBAG© Cover For Tablets and Ipads right here on the BestLife Gifts of Pine Bush website.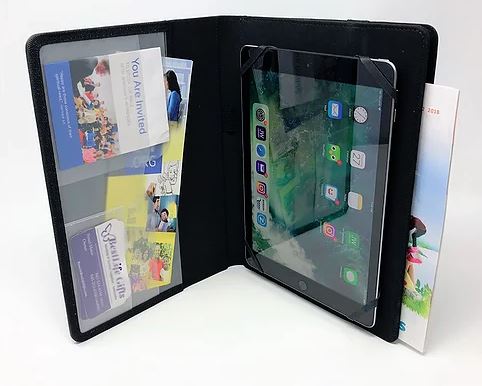 Media Contact
Company Name: BestLife Gifts
Contact Person: Tom Matos
Email: Send Email
Phone: 845-524-4344
Address:2412 NY-52
City: Pine Bush
State: NY 12566
Country: United States
Website: http://bestlifegifts.com