YouTube content creator to give out his "accidented" Mercury Verado 300 hp to charity
Popular YouTuber, Alfred Montaner, documents the events leading to the fall off of the Mercury Verado 300 hp and the recovery after 11 days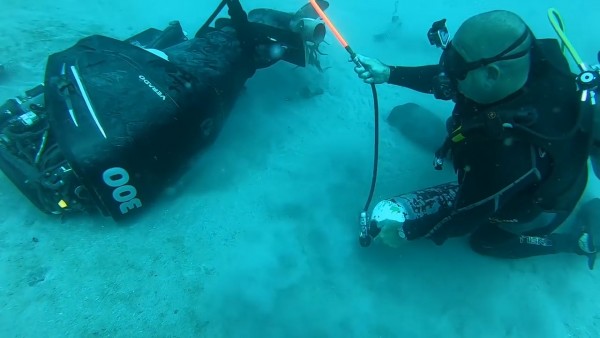 Mercury Verado 300 HP is one of the most popular boat engines with thousands of enthusiasts of water activities enjoy the powerful, smooth running, and relatively quiet engine. Alfred Montaner is a popular YouTuber content creator and boat enthusiast. He uses his post on YouTube to teach millions of his followers across the globe about boats. In his recent video series, Alfred posted the events that led to a boat accident that involved the falling off of a Mercury Verado 300 hp and how Alfred and his team recovered the motor after 11 days.
Alfred achieved a seemingly remarkable and incredible feat not only with the recording of the video but the way he was able to recover it and give it to charity. The day started great for Alfred as he was doing an interview, only for the engine of the boat to fall off. The captain on the boat made the swift and smart decision of cutting off the motor while it was dangling. In line with his goal of keeping the water ecosystem clean and safe for all, Alfred headed back to retrieve the motor from the ocean 11 days after the accident.
Alfred Montaner has documented the awesome story on his YouTube channel, detailing the fall of the engine to the adversity that he had while fixing the engine and eventually getting the engine.
Alfred is currently considering the options of fixing the motor and giving it to charity. This might involve auctioning the motor and part of the proceeds to charity. Alfred is working on the video series and currently has two videos about the story on YouTube with more than one million views on each video.
More information about Alfred's video series on the Mercury Verado 300 hp accident can be found on YouTube.
About Alfred Montaner
Alfred Montaner is YouTube content creator and enthusiast of boats and water activities. The YouTube vlogger has grown in popularity on the video sharing platform with his wide range of videos putting his followers through on the different components of a plethora of boat models. Alfred also offers helpful information and tips on how to enjoy their favorite asset.
Media Contact
Company Name: Luxury Rib Tenders LLC
Contact Person: Alfred Montaner
Email: Send Email
Phone: +1 786 447 9019
Country: United States
Website: https://www.luxuryribtenders.com