High Society Issue of ELIXIR by Royel to Be Covered by Model Nyakim Gatwech
Upcoming issue will be themed around social justice, racism and privilege.
July 6, 2020 – Calabasas, Calif. – Popular model Nyakim Gatwech, known to many as the "Queen of Dark," will be featured on the cover of the next issue of ELIXIR by Royel. The selection of Nyakim Gatwech by Mitchell Royel, editor-in-chief of ELIXIR by Royel, is a fearless and fitting choice. The next issue of ELIXIR by Royel, titled the High Society Issue, will be themed around social justice, racism and privilege.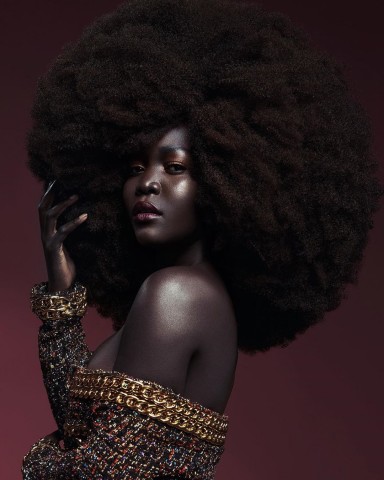 Photography & Makeup Credits:
Lola O, @lola_o
Kauwuane Burton, @kauwuane
"I'm extremely proud to have Nyakim Gatwech grace the cover of our next issue," explained Mitchell Royel. "The next issue will boldly explore the themes of social justice, combating racism in society and the pros and cons of privilege. I can think of no one better to represent this important issue than Nyakim. She shares a very empowering message with her 900,000 followers on Instagram regularly, and we're eager to have her share the same with our readers. We will continue to use our platform to promote diversity and inclusion while combating racism in society."
When Nyakim was asked what message she would send to privileged youth about helping to combat racism in society, she stated "If you're a privileged young person and you can reach people that I can't, please do that. If you have certain groups that you can reach that can help, please do. If your dad is the president, talk to your father. As a privileged white child, talk to people in your friend groups. Talk to people that I can't. That's one way of walking with us."
Mitchell Royel's ELIXIR is a non-commercial zine that features open letters and recycled photography from young tastemakers across the globe. The popularity of ELIXIR by Royel is unmatched with young people between the ages of 17-22.
For those interested in viewing Nyakim Gatwech's cover and reading stories on social justice, the High Society Issue of ELIXIR by Royel will be available to browse for free in August 2020 at elixirbyroyel.com.
About ELIXIR by Royel:
ELIXIR by Royel is a noncommercial, handmade digital magazine. ELIXIR by Royel features themed open letters and recycled photos from young tastemakers. Mitchell Royel is the editor-in-chief of ELXIR by Royel. Recently, Mitchell received the Advancement to Cultural Diversity award from thecrushfashion.com. Previous issues of ELIXIR by Royel have been covered by Thomas Kuc, one of the stars of Nickelodeon's Game Shakers, and Devon Werkheiser, the star of the Nickelodeon sitcom Neds DeClassified School Survival Guide, alongside Jennifer Stone, a series regular on Disney Channel's Wizards of Waverly Place.
About Nyakim Gatwech:
Gatwech is known for her naturally dark skin color and has been nicknamed the "Queen of the Dark." Gatwech has faced self-esteem issues and comments from people who promote bleaching to lighten skin color, but she has learned to embrace her beauty and pigmentation with love and support from her fans. She has over 900,000 followers on Instagram.
Media Contact
Company Name: Nicholas Matthews
Contact Person: Media Relations
Email: Send Email
Phone: 213-493-6105
City: Calabasas
State: California
Country: United States
Website: elixirbyroyel.com