AGENDA Cover Models Coco Mitchell & Ty-Ron Mayes Talk "Career" on the Fashion Whisperer Podcast
Supermodel Coco Mitchell dazzles on the front cover and celebrity stylist Ty-Ron Mayes shines on the flip cover of AGENDA magazine Issue 18. Both are mavericks in the world of fashion, gaining endless exposure and worldwide recognition. These fashion trailblazers have an engaging dialogue, offering hidden gems of knowledge, including how to thrive as people of color in a competitive industry.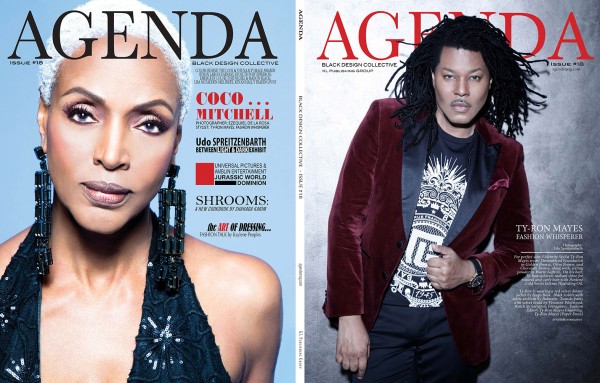 September 17, 2022 – Los Angeles, CA – "Coco Mitchell was part of that first wave of Black models who came onto the fashion industry, mainstream, and at a top level. We were all just making it up as we went along, fighting for contracts, fighting to be on the runway, fighting to be in ads, fighting for covers. It was a movement for visibility [and] for representation, because Black people were spending a lot of money buying the top designer labels [including] Calvin Klein jeans, Tommy Hilfiger, Ralph Lauren, and still to this day, Gucci. There was an unwritten call to start having Black people in some of these ads and some of these covers, and more representation that would match the dollars that were coming out of the fashion industry." – Ty-Ron Mayes
It all started with a fortuitous encounter with Eileen Ford who planted a seed in the mind of the young unassuming school teacher Coco Mitchell. And after one year of teaching at a Catholic school, Coco followed Eileen's suggestion and made a call to destiny. "I got discovered by Eileen Ford [of Ford Models] on the streets of New York City. She walked up to me and asked me if I had a book. I replied, 'I have lots of books.'" Mitchell continues, "I just graduated from college, and I'm going to be a teacher. I start in two months." During the course of this conversation, Eileen informed her that what she'd be making every two weeks as a teacher, she could make every 20-30 minutes as a model. And the "book" Ford was referring to, she explained to Mitchell that it was a book with her pictures in it—a model's portfolio. – Fashion Whisperer Podcast
Since that phone call, Coco Mitchell has been on a continuous, lucrative adventure as a model, working with some of the most iconic designers and campaigns around the world in the last four decades. From being a Kelly Girl to walking the runway for the biggest fashion brands, the former elementary school teacher was featured in MADEMOISELLE, GLAMOUR, Italian and French VOGUE. Coco was one of the first African American models to be in THE SPORTS ILLUSTRATED SWIMSUIT ISSUE and has worked with Francesco Scavullo, Herb Ritts, Armani, Versace, Dior, Givenchy, Valentino, just to touch the surface of her illustrious career. And after her first modeling assignment in the late 70s, she hasn't missed a beat and shares the title as one of the hardest working supermodels in the industry.
Coco Mitchell talks about the fit model:
"I was still so new to modeling that I didn't know before I met Ralph Rucci that models did fittings. Ralph approached me at a restaurant, 'Coco Mitchell, I would love for you to do my fittings. When I did a fitting, I fit my clothes for what I'm wearing in the show, not do fittings. I said to him, 'I don't understand what you're talking about?' He said, 'I want you to fit my whole collection.'" Mitchell talks about how she expanded her career as a fit model for Badgley Mischka, Chado Ralph Rucci, Donna Karan, and others. She added, "You could make a quarter of a million dollars just doing fittings!" — Fashion Whisperer Podcast
Ty-Ron Mayes has styled over 150 magazine covers and countless celebrities, including Tyra Banks, Heidi Klum, Carol Alt, Iman, Adriana Lima, Tyson Beckford, Megan Fox, Eminem, Daymond John, Leelee Sobieski, Renauld White, M.J. Rodriguez, Ron Carter, Halle Berry, Michelle Rodriguez, Mariah Carey, Lauren Hutton, and others. He was the fashion consultant to Tyra Banks for America's Next Top Model Cycle 20, and was not only on Cycle 21, but was appointed by Tyra as ANTM's first Lead Wardrobe Stylist. His career as a celebrity stylist was officially launched by Francesco Scavullo and Sean Byrnes, where he styled Oprah Winfrey on several magazine covers. Mayes has styled international editions of VOGUE, HARPER'S BAZAAR, ELLE, MARIE CLAIRE, and COSMOPOLITAN magazines. He has works with many prestigious photographers, including David LaChapelle, Sante D'Orazio, Anne Menke, Udo Spreitzenbarth, Antoine Verglas, Mike Ruiz, Marlena Bielinska, Emin Kadi, Matthew Jordan Smith, Mark Borthwick, Marc Baptiste, Yu Tsai, Ezequiel de la Rosa, and Greg Gorman. Some of Mayes's advertising clients are Stila Cosmetics, Maybelline, Miss Clairol, Clairol Beauty Collection, Iman Cosmetics, FUBU, and the Guess campaign. Designers with whom Ty-Ron has cultivated relationships include Custo Barcelona, Carmen Marc Valvo, The Blonds, Nicole Miller, Zang Toi, and Lie Sang Bong. And Ty-Ron Mayes was given the name, "The Super Stylist."
AGENDA's editor-in-chief, Kaylene Peoples, approached Mayes about his being on the flip cover of issue 18. Ty-Ron was initially featured in the magazine years ago when AGENDA (agendamag.com) was exclusively online. Peoples later featured Rick Genest (Zombie Boy), an editorial styled by Mayes, which appeared in the 2014 inaugural "print" issue of AGENDA Special Edition I: "Fall Is Fascinating." In 2018, print issue 6, Mayes was featured in Fashion Trailblazers, a 14-page retrospective, titled, "Ty-Ron Mayes: An Inside View of His Fabulous, Fashionable Court." Also, in that issue, Ty-Ron styled Supermodel Maria Borges for the cover story, as well as the fashion spreads with Kelly LeBrock and Phil Sullivan.
"Ty-Ron and I discussed his being a part of AGENDA's team in 2020, at the beginning of the pandemic. We had a great synergy and tended to think alike when it came to fashion stories. I was delighted when he agreed to come on board. The Fashion Whisperer made its debut, and issue 12, 'Generation Quarantine – Pandemic 2020 the Fashionable Response' was our PSA, becoming the holy grail of that perilous epoch and now part of AGENDA's time capsule. AGENDA was one of the pandemic's first responders for the written word in a fashion and lifestyle print magazine, and helped to open dialogue for other fashion periodicals; and the fashion story, 'Generation Quarantine,' was pivotal during that time." — Kaylene Peoples, AGENDA Editor-in-Chief
Mitchell and Mayes star in their own stunning fashion editorials. Ty-Ron styles both spreads, featuring clothes and accessories (for Coco Mitchell) by Versus by Versace, Zang Toi, Donna Karan, Salvatore Ferragamo, Carmen Marc Valvo, and Sam's Army & Navy, photographed by Ezequiel de la Rosa; and (for Ty-Ron Mayes) with Roberto Cavalli, Alessandro Gherardeschi, Tahari, vintage Jean-Paul Gaultier, Eliza J., Christian Louboutin, Zars London, Tiffany & Co., Salvatore Ferragamo, and Versace, photographed by Udo Spreitzenbarth with makeup, hair, and grooming by Ty-Ron Mayes for Paper Faces.
"The fashion stories, 'In Love with the Coco' and 'Ty-Ron Mayes – Fashion Whisperer' are both compelling and wonderfully styled editorials that are beautiful additions to this highly curated issue of AGENDA, which is all about inclusion. Coco Mitchell has been on our radar for some time, her being our cover model is not only thrilling, but beyond ideal as we approached the current fashion season; and Ty-Ron Mayes living on AGENDA's flip cover has been a long time coming . . . and way overdue!" – Kaylene Peoples
With prestigious campaigns with Thierry Mugler's "White Sands," Virginia Slims, Benson and Hedges, and countless television commercials, Coco Mitchell has spoken at FIT, Pratt, and the Phoenix Art Museum in conjunction with PAM's "Chado Ralph Rucci" exhibit. Coco Mitchell is now consulting, coaching, casting, directing editorial shoots, and assisting those both established and emerging in their modeling careers, and continues to give back to the very community that has enriched her life in countless ways!
Ty-Ron Mayes is one of New York's most sought-after celebrity stylists who not only dresses his famous clientele, but also models. Mayes has walked in the highly touted Blue Jacket Fashion Show for three years in a row.
"When I was asked by founder Frederick Anderson to be part of The Blue Jacket Fashion Show, I was super excited, because the charity itself brings awareness to the prevention of prostate cancer. This was an opportunity for me to join the men's health movement. The Blue Jacket Show brings together celebrities from the fashion, sports, news, and entertainment industries to have a national conversation about the risks of this disease. This year the focus was on African American & Latin men in America who statistically are the highest documented incidence rates of prostate cancer in the world." – Ty-Ron Mayes
Check out Ty-Ron Mayes and Coco Mitchell's cover stories in AGENDA Issue 18: "Black Design Collective" (Digital & Print). To listen to Ty-Ron's interview with Coco Mitchell, visit The Fashion Whisperer Podcast at agendamag.com. AGENDA is published by KL Publishing Group. (@agendamag)
Written by Sean McKenzie
First Take PR (https://www.firsttakepr.com)
Media Contact
Company Name: Agenda Magazine
Contact Person: Sean McKenzie
Email: Send Email
Country: United States
Website: https://www.firsttakepr.com/