Maje Is Becoming the Most Iconic Clothing Brand in Paris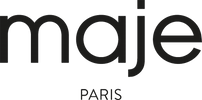 If you are looking for a clothing brand that provides aesthetic and luxe women's clothes for all seasons. Make sure your next destination is Maje. Maje is purely made for lovers of luxe bohemian and French fashion. For contemporary women's clothing, Maje has made its feminine collection with romantic details. Their unique designs are a treat to fashion lovers. Their amazing dresses marries timeless shapes with sharp accents for today's woman. Think soft, draped silk dresses, buttery leather jackets, and lace tops that can take you from the desk to dinner or date night. Elevate the classic jeans and tee with a cropped cardigan, or pair wide-legged pants with a cashmere knit. Turn heads with a printed jumpsuit, and bring the beach to the city with crochet tops and dresses. If you can't go past a coordinated set for effortless everyday wear, layer tops and bottoms in tweed, satin, stripes, and much more under one roof. Maje makes you look bold.
Not only just designer dresses Maje is a complete heaven for women's accessories. From polish to French outfits, like fringed cross-body bags, shoulder bags for the office, studded belts, and strappy sandals you can buy everything you need to look perfect. Of course, every girl is incomplete without jewelry no look is complete without jewels. You can shop their delicate pieces of jewelry, or make a statement with chunky gold pieces like their signature dice and alphabet necklaces.
One of the most amazing things about Maje is that they know how to keep promises. They believe the clothes are made to make you look stunning. They are maintaining their uniqueness and delicacy without disturbing the environment. They are conscious f our footprint on our planet and are committed to sustainable design. Their eco-friendly collection uses natural, organic, biodegradable, and recycled materials, so you can wear them proudly.
About Maje
Maje is a clothing brand mainly located in Paris, France. It was discovered by a French-Moroccan designer Judith Milgrom. For her, there's no place like Paris. It's her heart, soul, and source of endless inspiration. The energy and the culture aside, she's always adored the chic yet effortless style of Parisian women. That certain je ne sais quoi. She admired their confidence and the way they carry themselves, and she wanted to bring the style of the City of Light to the rest of the world. Today Maje is considered one of the most iconic brands in Paris. You can shop amazing quality clothes online and you can also visit any near Maje outlet for your favorite, shirts, jeans, coats, jewelry, and much more at amazing prices.
Social Media Channels:
Instagram: http://www.instagram.com/majeparis
Facebook: https://www.facebook.com/maje/
Pinterest: http://www.pinterest.com/majeofficiel
Youtube: https://www.youtube.com/MajeOfficiel
Media Contact
Company Name: Press Release Board
Contact Person: Media Relations
Email: Send Email
City: New York City
Country: United States
Website: https://pressreleaseboard.com/